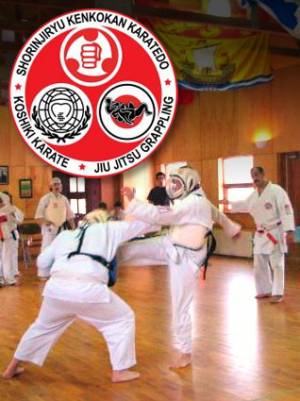 Karate and Jiu-jitsu Club West Island
1974 City Lane
BEACONSFIELD
QC
H9W 6B1

Telephone

514-328-4683
Karate and Grappling
We offer children's karate classes and karate and no-gi submission grappling classes for teens and adults. We train on Thursday nights and Saturday mornings. Everyone welcome, no uniform required. Join us for Karate in the West Island!
Beaconsfield Recreation Centre, 1974 City Lane, Beaconsfield
Classes are held twice a week. Children and Adult classes are held both days. The style of practice offered is Shorinjiryu Kenkokan Karate-do. Tournaments are held in house on a regular basis with schools from around Quebec. George Manoli's school can be seen in the News and Views.
Offering Karate and grappling classes, personal safety courses, workshops, and private one on one sessions since 1982.
Men, Women, Teens, Parents and Children welcome
Shorinjiryu Kenkokan Karate-Do
A unique blend of Okinawan kobudo and Shorinji Ryū Karate, Japanese aikijujutsu, judo, kenjutsu, and Chinese bājíquán (Wikipedia.org).
Koshiki Karate
Koshiki karate is not a style (or ryu) of karate but rather is a way of practicing one's karate fighting skills.The koshiki system of fighting was developed by Hanshi Masayuki Hisataka in the 1980s. Considerable research went into discovering the material that would offer the most protection. The resulting gear is known as "Super Safe" protective equipment.
Personal safety courses for women and teens and our children's street-proofing programs are nationally recognized by the C.A.F.S.U. and The Missing Children's Network Canada.
Our courses have been on the National Film Board documentary entitled 'The Ring Within' and 'The Volcano.'
Jui-Jitsu no-gi submission grappling
We are now progressing through the Gracie Combatives system which we have incorporated in our grappling program.
Our courses are taught regularly in schools and community centres
Courses offered:
Don't Bully me! - Courses and workshops
Karate/Grappling Club
Private 1 on 1 sessions
Red Cross babystters course (8h)
Self defence / Assault prevention
Street smart kids workshop
For more information, please click here to visit our website today!
"WOW, this is beautiful, well done. It sums it all up I must say. "
George Manoli Inc