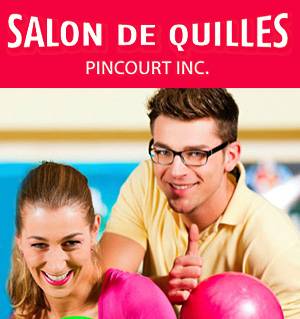 Bowling Pincourt
111 Boulevard de L'Ile
PINCOURT
QC
J7W 9B3

Telephone

514-425-2228
Bowling in the West Island, l'île Perrot and Vaudreuil Dorion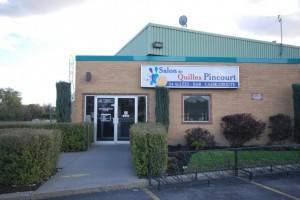 The Pincourt Bowling Alley welcomes you to come and have a great time. We offer 12 large and 12 small pin alleys in a climatized environment. Our services include a snack bar, a bar, shoe rental, a bowling equipment pro shop, and plenty of parking.

Bowling Leagues
Come and join one of our already exisiting leagues or create one of your own.
Adult leagues meet every evening of the week.
Senior leagues meet every day of the week.
Junior league meet on Saturday mornings.

Bowling Groups
We offer special rates for Group Events. Our bowling alley is popular with schools, day camps and sports teams. We are happy to host your fund raiser or bowl-a-thon.
Bowling Birthday Parties
Let us help you celebrate in an original way. We offer a wonderful birthday party special that includes: 1 hour of bowling, a dedicated party table, hot dogs, chips and beverages. We also supply a table clothe and dishes for the birthday cake that you bring. We recommend reserving 2 weeks in advance.

Take a spin around our Bowling Alley in this 3D map from Google:
Pincourt Bowling welcomes bowlers of all ages from all around the West Island and the Montéregie. Including: Ile Perrot, the West Island, Vaudreuil Dorion, St-Lazare and Hudson.
For more information, please click here to visit our website today!