Yoga Source
Suite #204
2152 Boulevard Lapiniere
BROSSARD
QC
J4W 1L9

Telephone

514-233-1218
Yoga Source

A welcoming studio located close to Champlain Mall in Brossard on Montreal's south shore. We offer a variety of Yoga courses for women and men of all fitness levels.
Yoga Source has created a relaxing studio with a unique atmosphere where you can practice in comfort.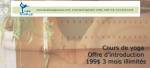 We invite you to come try our various classes:
Ashtanga Yoga

Vinyasa Yoga
Beginner Yoga
Hatha Yoga

Kundalini Yoga
Meditation
Regenerative Yoga

Special Workshops

We are located near Montreal on the South Shore.
For more information, please click here to visit our website today!