Pneu Unik auto centre
2370 Hymus
DORVAL
QC
H9P 1J9

Telephone

514-683-1961
Auto Mechanic Services - West Island, Montreal
Tires - Alignment - brakes - suspension
General mechanic and tune-up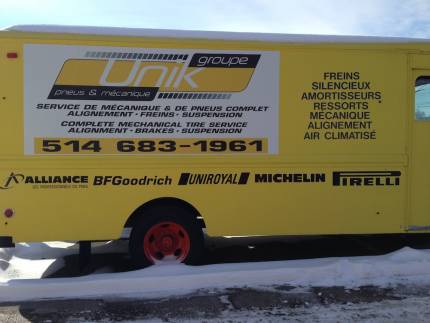 Pneu Unik Auto Centre experts have been providing customers with safe and sustainable solutions for their car maintenance since 1988. You can depend on the professionalism of our team, whether it is for mechanic repairs or the purchase of tires. We use the latest technology and offer the major brands of tires at competitive prices.
Pneu Unik auto centre has maintained a loyal customer base over the course of the years. "We have a clientele that comes back year after year and generation after generation," says owner and founder Yvon Deschambault.
General Mechanic
Pneu Unik auto centre has 7,000 square feet and seven workstations. This large space provides enough room for our auto mechanics to work quickly and efficiently on your vehicle.
Our services for car and light truck include:
motor
steering
suspension
brakes
exhaust system
tune up and more
Our technicians ensure the best solutions for the safe operation of your motor vehicle.
Tires
Whether you need to change, store or align your tires, Pneu Unik's many qualified employees can help you. The centre also boasts a wide range of tires for sale, including brands such as Michelin, Pirelli, Bridgestone, Uniroyal and BF Goodrich. Our mechanics can also inspect your vehicle and make general repairs. Pneu Unik gives the customer a complete range of services.
Our tires services include:
new tires (Michelin / BF Goodrich / Uniroyal)
tire replacement
storage
wheel alignment
Our state-of-the-art equipment provides you with a report of your vehicle's wheel alignment.