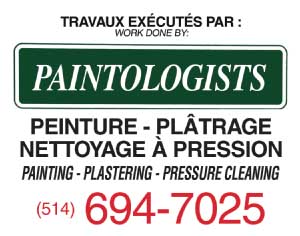 Paintologists
18 Viger
KIRKLAND
QC
H9J 2E5

Fax

514-694-9679

Telephone

514-694-7025
Professional Painter in the West Island, Montreal
West Island painter specializing in professional interior and exterior painting
Residential, Commercial and Industrial painting – pressure cleaning
R.B.Q. Licenced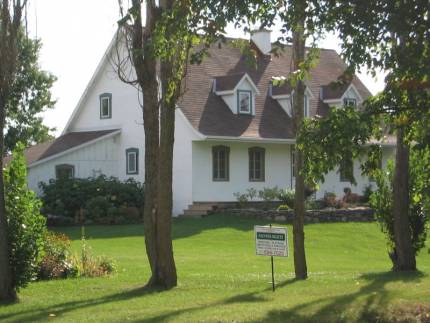 Paintologists is a Montreal based company offering residential and commercial, painting and pressure cleaning services since 1986.
Paintologists was established in 1986 with a clear objective to provide our clients with the best quality in materials, labour and service at very competitive rates.
Because this continues to be our guiding principle, we have succeeded in building a reputation as a company that puts the client first. We take the time to do a thorough preparation in every job. Top quality finishes are then applied using top quality tools and equipment to ensure that best results and a high degree of customer satisfaction are achieved.
All jobs are handled with the same care and professionalism whether your project is a small room or office, or a full house or building. No job is too big or too small. Every job is important.

Painting and Cleaning Services:
Interior Painting
Thorough surface preparation
Plastering, crack repair & taping
Caulking & spackling
Regular & stain killing primers
Finish coats with low VOC paints
Faux fini & decorative painting
Wood staining & varnishing
Spray painting ceilings, walls and closets in empty houses
Interior Decorating Services
Colour consulting & design service
Staging services
Crown & trim molding installation
Minor carpentry & wood restoration
Wallpaper removal
Exterior Painting
Thorough preparation & wood repairs and restorations
Installation of flexible elastomeric caulking
Spray painting
Paint siding – Recoating of weathered aluminum siding
Preparation & painting of trim, windows and all siding
Staining & sealing of decks, fences and siding
Painting of pools – paint concrete pools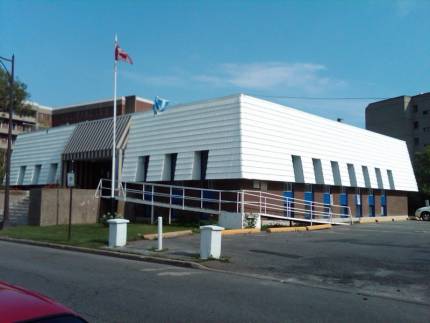 Cleaning Services
Mobile pressure cleaning of any surface including siding, soffits, eaves troughs, windows, awnings, walkways, patios, garden furniture and more.
Cleaning & restoration of wood decks and fences
Graffiti removal & paint removal (enviro-safe and damage free)
Water blasting of concrete pools and concrete decks
Insect elimination – Bug-Tek – a non-toxic treatment which acts as a barrier to keep insects away – bed bug elimination
Mold clean-up and prevention using a special Mold-Control solution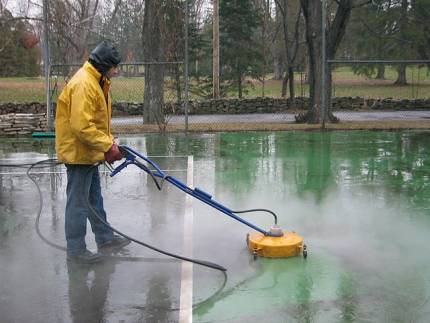 Industrial & Commercial Services
Preparation, plastering & painting of office walls, trim and doorways
Preparation & painting of pipes, metal structures and machinery
Preparation & coating of concrete floors with epoxy enamels and sealers
Pressure cleaning & degreasing of warehouse walls and floors
Pressure cleaning & coating of weathered exterior metal siding, steel structures and metal roofs
Graffit removal & paint from all exterior surfaces and public places
Spray painting steel deck ceilings in shops and warehouses
Spray & roll steel walls and concrete blocks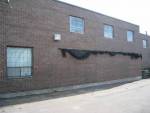 Before After
Licensed, Bonded & Insured – RBQ #8299-0557-03
For more information, please click here to visit our website today!