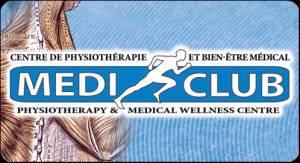 MEDI-CLUB Sports Physio
Suite #1st floor
2869 St-Charles
KIRKLAND
QC
H9H 3B5

Telephone

514-695-9152
Physiotherapy and Medical Wellness Centre in West Island, Montreal
Offering physio, physiotherapy, osteopathy, sports therapy, manual therapy, massage therapy and more

The Medi-Club Physiotherapy and Medical Wellness Centre is a medical clinic located in Le Club West Island in Beaconsfield that offers the following services:
Physiotherapy
Our highly trained physiotherapists use a variety of approaches and techniques to diagnose and treat musculo-skeletal injuries and dysfunctions. Our approach to therapy is very hands-on and involves high level therapy techniques such as: manual therapy, active release, sports therapy, muscle energy, myofascial release, and McKenzie Approach. We use modalities such as ultrasound, electrical current, heat and cold. Our physiotherapists also customize programs of exercises and provide you with strategies in order to help control the condition and/or prevent re-injury.
Athletic Therapy / Sports Physiotherapy
Our athletic physiotherapists specialize in sports related musculo-skeletal injuries and dysfunctions. Treatment includes: rehabilitation of sports injuries, prophylactic and supportive taping and bandaging, strength and conditioning programs, as well as posture evaluation. Our physiotherapists also provide advise on the selecting of sports equipment and on injury prevention strategies.

Manual Therapy
Medi-Club physiotherapist are continually advancing their clinical knowledge and treatment techniques by pursuing post-graduate Manual Therapy training. By using the Manual Therapy approach, our therapist can treat orthopaedic conditions with advanced hands-on evaluation and treatment techniques.
Osteopathy
The therapeutic approach of Osteopathy focuses on freeing up restrictions of the musculo-skeletal structures and of the circulatory and nervous systems. Through a variety of techniques, osteopath treats dysfunctions such as chronic or acute pain, traumatic injuries, organic or visceral problems, as well as neo-natal and infant problems.

Massage Therapy
Massage Therapy helps to reduce pain, physical discomfort, tension and stress - and - helps to increase energy and promote general well being. The massage therapists at Medi-Club use a variey of massage styles, including: Therapeutic, Acupressure, Swedish, Sports, Oriental, and Californian. Their professional education and experience allow them to provide an extensive array of approaches such as: deep tissue, myofascial, holding pressure techniques, neuromuscular release techniques, somatotherapy, reflexology, lymphatic drainage and articular pumping and more.
Orthotics / Prosthetics
Our orthotists and prosthetists are experts in the area of biomechanics. Custom foot orthotics, prosthetic devices and braces help to support, immobilize and align the body in order to help improve function and/or reduce pain.
Pediatric Sports Medicine
Our team of physiotherapists often works with children. The clinic is affiliated to the department of sports medicine of the Montreal Children's Hospital since June 2012. Dr Claire LeBlanc runs a teaching clinic twice a month at our offices.

Our therapists have a high level of expertise and experience which is one of our trademarks. Many of them work with national, provincial as well as recreational athletes.
We specialize in the treatment of acute sports related injuries such as sprains, strains, tendonitis, shin splints, plantar fasciitis as well as neck and back problems.
We guide patients' rehabilitation to optimize the healing process. We treat chronic medical conditions like osteoporosis, arthritis, diabetes, fibromyalgia, Parkinson, stroke and breast cancer and we design preventive exercise programs.
The mission of Medi-Club is to become an integral part of the West Island community providing high quality services applying a personalized approach to help our patients achieve health and wellness.
A collaborative agreement between Medi-Club and Le Club West Island allows patients to have free access to the club's facilities as part of their rehabilitation program. This includes access to a large array of cardio-vascular and strength training equipment in a 5000 square foot gym.
The Medi-Club clinic is situated on the West Island of Montreal, in Beaconsfield.
We're in the Club West Island building, near Hwy 20 and St. Charles Blvd.

Serving Montreal and the west island including:
Beaconsfield
Pointe-Claire
Dorval
Kirkland
Baie d'Urfé
For more information, please click here to visit our website today!