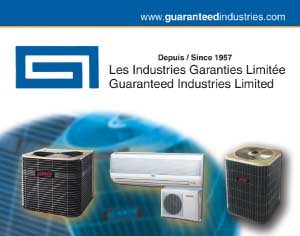 Guaranteed Industries
5420 rue Paré
MONT-ROYAL
QC
H4P 1R3

Telephone

514-342-3400

Fax

514-342-2486
Air Conditioning, ventilation and heating in the West Island, Montreal area
Specialists in Air conditioning, heat pumps, ventilation, refrigeration, repair and installation
http://www.yellowpages.ca/bus/Quebec/MONT-ROYAL/Guaranteed-Industries/732713.html?AFC-IN2398908473

Customer satisfaction is guaranteed
In operation since 1957, Guaranteed Industries is a leader in the air conditioning field, with speciality divisions staffed by experienced technicians, engineers and project managers.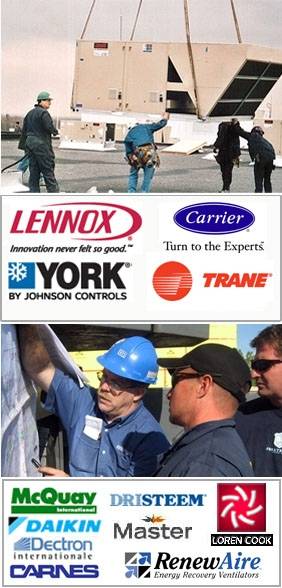 COMMERCIAL CONTRACT DIVISION & MAJOR PROJECTS
Guaranteed Industries delivers top quality climate control and ventilation systems to the architects, engineers and general contractors who depend on us. We design and install air conditioning, heating, ventilation, humidification, heat recovery and energy management systems for some of Montreal's largest projects. Our managers and technicians supervise every stage of a project from the design phase through to the installation. We keep an eye on things to make sure that deadlines are met and projects stay on budget.
Keeping pace with our industry's latest advancements is one of our priorities. Today's builders are using green technology to increase energy savings and ensure healthy air quality. We provide them with our up-to-date expertise and products. Our staff of designers and licensed technicians constantly participate in upgrade and training courses in oder to keep up with the latest advances in technology.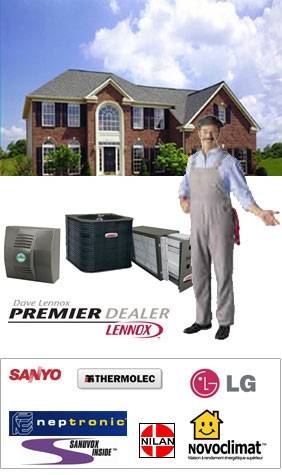 RESIDENTIAL
Today's homeowners are not only concerned about the comfort of their homes, but also a healthy environment. Advancements in engineering and technology continue to improve our air quality, heating and cooling products. High-efficiency heating and air conditioning systems, such as Lennox Residential HVAC, save both energy and money. Filtration systems and humidifiers help keep the house air quality clean and healthy. And, ductless systems are efficient in keeping homes cool without ventilation.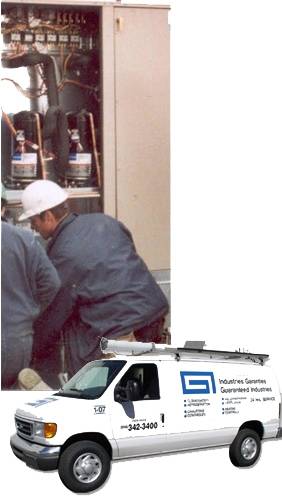 PRODUCTS AND SERVICES
Guaranteed Industries provides dependable service for all types of equipment and properties. We offer maintenance contract programs (commercial, industrial and residential) to better protect your equipment and ensure the efficiency of your system. We provide 24 hour emergency service. A fleet of 40 service vehicles and qualifed technicians repair and maintain equipment on site or in our fully equipped repair shop. We serve a cross section of the commercial, industrial and residential community within a 200 mile radius of Montreal.
Our products and services include:
Air conditioning

Ventilation

Heating

Heat pumps

Furnaces

Humidification

Refrigeration

Energy management

Air purification

Duct cleaning

Air quality analysis

Pumps and motors

Geothermal

Air exchangers

Ductless split systems

Ductless air conditioning

Dryer vent cleaning

Service / Repair

Maintenance
Our preventive maintenance programs include:
C.O.A. (Check Oil Adjust) service - to keep equipment running at peak efficiency.
Regular inspections - with filter cleaning/changing
Equipment verification - with adjustment and lubrication
Communities served include:
Montreal
West Island (Dorval, Pointe Claire, Dollard des Ormeaux, Dorval, Kirkland, Pierrefonds and more)
St-Laurent
Laval
South Shore Montreal
North Shore Montreal

For more information, please click here to visit our website today!