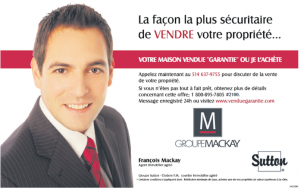 Groupe Mackay Agence immobiliere
225 25e Avenue
LACHINE
QC
H8S 3X2

Fax

514-637-8583

Telephone

514-637-9755
Real Estate Agent in the West Island, Montreal
Team Mackay - Mackay Group

Buying: Buy any of our listings, and if you are not satisfied within 12 months, we will buy it back!
Selling: Your home sold guaranteed or we will buy it for cash!
BUYING A HOME:
In Montreal's market, buying a home has never been harder!
If you buy any one of our listings... consider your- self protected! As one of our clients, you are eligible for our Buy Back Guarantee.
Here is how it works...


If you have moved into your new home and you find you're not happy with your purchase for any
reason, we will assume a higher measure of accountability than the typical real estate agent.
As such, we will actually step up and... buy back the home for you!
We stand behind your decision to buy and offer you our personal Buy Back Guarantee as noted above.
We offer it in writing to help maintain, and protect your investment. We want you to know how committed we are to helping our clients find their dream home.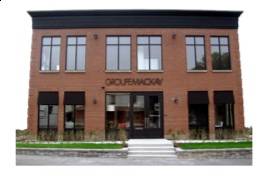 SELLING A HOME:


Your biggest dilemma when considering pur-chasing another home is deciding whether to buy first or sell first.


OBVIOUSLY, YOU DON'T WANT TO GET STUCK OWNING TWO HOMES OR NO HOME AT ALL.

We have the solution...


With our guaranteed sales program you receive our better than risk-free offer! In fact, you are doubly protected, and here is how :
1. You receive our upfront offer in writing

that we will sell your present home before you take possession of your next one.

2. If you receive an offer that is higher than the guaranteed

price

from an outside buyer, you get the higher offer, not us! This means that when you see a home that you like, you can react immediately and negociate the lowest price.

3.If your home fails to sell... WE BUY IT!

If you want to sell your home fast at thebest price, don't delay. Call us now at 514.637.9755 and start packing.
YOUR HAPPINESS IN YOUR NEW HOME IS OUR #1 PRIORITY!


For more information, please click here to visit our website today!