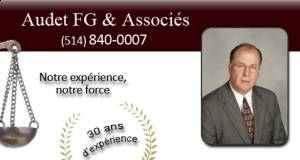 FG Audet & Associates Inc.
Suite #1110
2075 Robert Bourassa
MONTREAL
QC
H3A 2L1

Telephone

514-840-0001

Telephone

514-840-0001
Legal Services - Montreal - West Island
Lawyers specializing in Civil, Commercial and Criminal Law
Our 30 years of experience help to insure that your legal rights are respected.
With over thirty years experience in civil and commercial litigation, our firm is well poised to help you out of any difficulty you might find yourself in, whether it be an insurance claim following a personal injury, a fire, a disability claim, an accident, a dispute concerning hidden defects as well as a divorce, separation and custody disputes. We are also able to represent you concerning CSST and SAAQ claims as well as all criminal matters.
We have a very flexible payment plan that ranges from an hourly fee to a flat rate and/or contingency fee. We are there to assist you and endeavour to make justice accessible to you.
Our team of lawyers are able to serve you in French, English and Spanish.
We work with a variety of experts in every field in order to give you the best possible representation.
Our legal services include:

CIVIL LITIGATION:
▪ Insurance claims
▪ Accidents / Medical malpractice
▪ Bodily injury
▪ Civil and Commercial litigation
▪ Divorce / Child custody
▪ Estates and Wills
▪ Immigration / CSST / SAAQ
CRIMINAL LAWYER SERVICES:
▪ Impaired driving
▪ Shoplifting
▪ Fraud
▪ Drugs
▪ Conjugal violence
▪ Assault etc...
For more information, please click here to visit our website today!