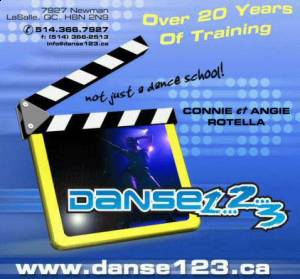 Danse 123
7927 Newman Boulevard
LASALLE
QC
H8N 2N9

Telephone

514-366-7927
Dance Studio - Montreal Lasalle
also serving the West Island
Dance - Singing - Acting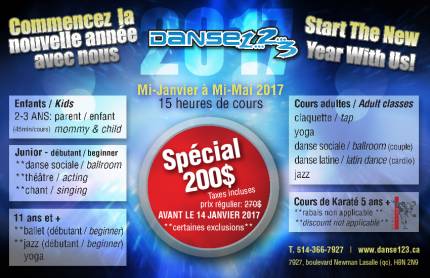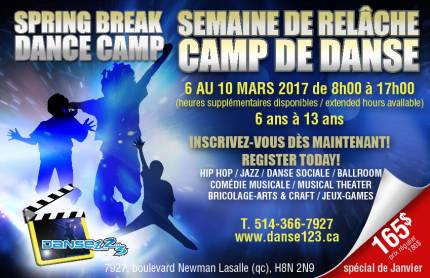 Danse 123 is the Montreal dance studio of choice, whether pursuing a career in dance or just dancing for fun.
Dancing is an artistic form of nonverbal communication expressed through graceful and rhythmical movements. At our Dance 123 studio you will discover the dance style that fits your personality.
Our goal at Danse 123 is to teach students of all ages different styles of dance through which they can express themselves physically and emotionally.
We offer a variety of different courses for everyone: kids starting at age 2, teens and adults.
DANSE123 YEND VIDEO from My 11.11 Productions on Vimeo.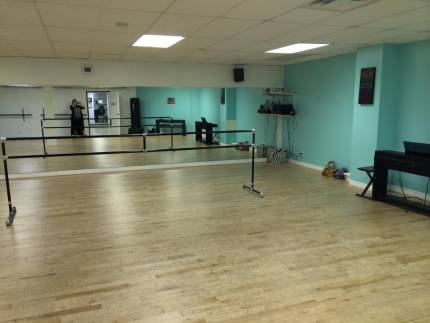 Courses and styles offered:
Jazz dance
Ballet
Contemporary dance
Tap dance
Hip Hop
Musical Theatre
Acting lessons
Singing lessons
Latin Dances (ladies only)
Ballroom/SALSA (junior couples)
Karate
kids dance class
adult dance class
summer camp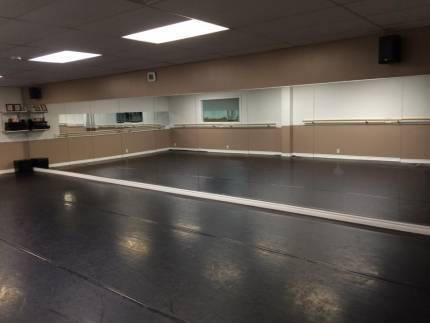 For more information, please click here to visit our website today!