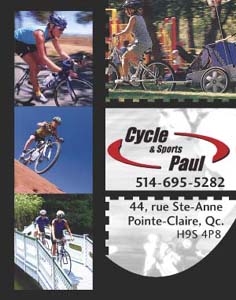 Cycle Paul
44 St-Anne
POINTE-CLAIRE
QC
H9S 4P8

Telephone

514-695-5282
Cycle and Sports Store in the West Island, Montreal
COME IN AND DISCOVER THE WORLD OF CYCLING
Bicycle Repair and Tune Up
Open all year!!!! Come in and discover the most complete cycling store in the heart of OLD POINTE CLAIRE VILLAGE. Whether it is to purchase a new mountain or racing bicycle, get your bike tuned-up, remodelling your cycling wardrobe, or any of your cycling needs, we are the place to stop at first.

Brand names include
Trek
Lemond
Kona
Balfa
Intercycle
BH
Guru
Fisher
Mirraco
Specialized
Look
Bion-X

Bicycle / Cycling Accessories
Mountain bike
Racing bike
Cycling equipment
Bicycle helmets
Bicycle racks for the car
Cycling apparel
Cycling accessories
Sunglasses
Cyclo computer
and much more......
We have been serving our customers for over 50 years.
Located in the Old Pointe Claire Village in Montreal's West Island.
For more information, please click here to visit our website today!