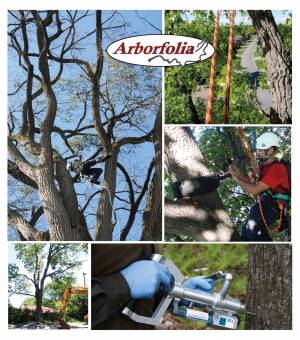 Arborfolia
RIGAUD
QC
J0P 1P0

Telephone

514-457-7555

Toll Free

866-443-6542
Montreal Tree Services
Montreal - West Island - Vaudreuil-Dorion
Tree Trimming, Tree Evaluation, Plant Health Care, Branch Chipping, Precision Tree Removal, Fertilization, Tree Maintenance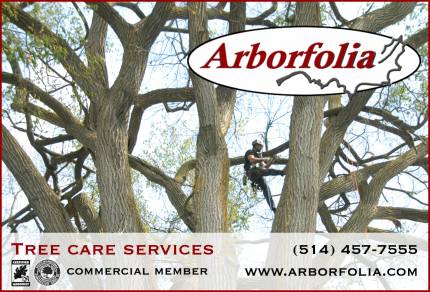 Arborfolia believes that proper tree maintenance is a good way to keep you, your property value and your community SAFE.
Arborfolia is a fully certified, full service company. We are certified with the International Society of Arboriculture. The owner is a certified arborist with the ISA.
Our Professional Tree Services include:
Tree Evaluation:
Arborfolia insepcts for common tree hazards including:
proximity to power lines
broken or damaged limbs
open cavities in the trunk or branch
rot and decay
recent change in the level and grade of soil
and more
Tree Pruning:
Proper tree pruning or trimming promotes healthy growth and can help to prevent hazardous situations.
Arborfolia can schedule annual pruning to maintain and/or restore your trees and prevent safety and pest related issues.
We provide a branch chipping service so that the tree trimming site is left tidy.
Fertilization:
Arborfolia provides deep root fertilization and aeration, adding nutrients to restore the condition of the soil. Tree fertilization includes four application methods: soil injection, surface application, trunk injection and foliar spray.
Precision Tree Removal:
Though always preferred as a LAST resort, sometimes tree removal is necessary. Arborfolia's experienced professionals will provide you with consultation and precision concerning any tree removal operation.
Tree Cabling and Bracing:
Sometimes trees develop in such a way that it may be beneficial for tree preservation and safety to install a cable between the two weak limbs. Please feel free to contact Arborfolia to determine the best plan of action, if you feel that your tree's limbs are unstable.
Stump Removal:
Arborfolia can grind the stump and the main root system of a removed tree to a depth of no less than 8 inches. Backfilling and planting, re-seeding or sodding can also be provided.
Construction Consultation:
Construction may result in damage to roots and main trunks which can weaken a tree's stability and possibly creating a hazard. Arborfolia can provide professional conulations for:
Building Location which will have limited arboral impact
Planning Methods for Tree preservation
Post-Construction Assessment
Elm Vaccination:
Arborfolia uses Dutch Trig - a biological treatment used to prevent Dutch Elm desease. Arborfolia distributes Dutch Trig and is certified to do the injections.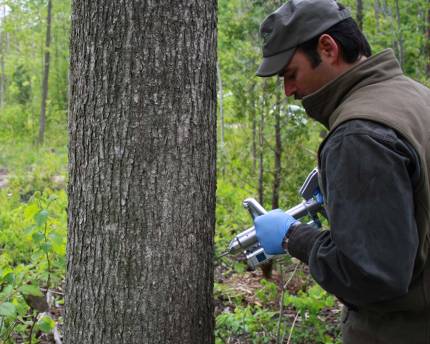 Plant Health Care Programs:
Starting from selection of planting, to fertilization and pruning.
Regular monitoring of the trees.
Organic treatments administered to control pathogens or parasitic insects.
Tree, shrub and turf fertilisation.
High quality natural products.
No chemical pesticides, insecticides or fungicies are used.
_________________________________________________________________
For more information, please click here to visit our website today!
"Wow!!!!
Thank you
You have outdone yourselves.... "
Jesse Nestor