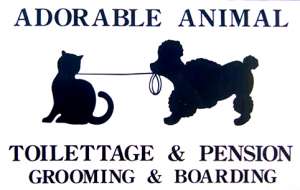 Adorable Animal
14033 Boulevard Gouin O.
PIERREFONDS
QC
H8Z 1X9

Telephone

514-624-9694
Pet Grooming Studio in the West Island, Montreal
Dog and Cat Grooming and Boarding
also, puppy and dog daycare
In 1992, a dream of mine became a reality: I opened the best pet grooming studio in Montreal!



After 20 years in business, my customers and my success have proven to me that I have accomplished my goal of uncompromised customer satisfaction. 6000 very satisfied customers are proud of their beautifully groomed pets! To compliment our GROOMING SERVICES , we also offer BOARDING SERVICES for dogs or cats which allows our customers to leave their pets in our caring hands for short or long periods of time. We have successfully been dedicating specific days on which you may book an appointment to have your dog's teeth BRUSHED AND DETARTERED!!!! We all try to take good care of our pets coat and must include their dental hygiene as well.



Neighbours, veterinarians and pet-store owners all recommend Adorable Animal. We will always take the time and effort necessary to ensure you and your pet are completely satisfied.
Without a doubt, ADORABLE ANIMAL is the most trusted dog and cat grooming studio in Montreal with the best reputation around. There is a very good reason we are known as "THE Place To Bring Your Pet"..... A WONDERFUL staff that truly loves and adores all of your most cherished pets.
It is our love of and attention to all your furry friends that has made us who we are today. We hope to have the pleasure of meeting and grooming your best friend.